planning and evaluation
Monitoring
Because many monitoring discussions are hindered by lacking a common vocabulary, we attempt to define key terms herein. The GCJV staff and management board use "the collection and analysis of repeated observations or measurements to evaluate changes in condition and progress toward meeting a management objective" (Elgina et al. 2001) as the basis on which to discuss and pursue monitoring within our partnership. Our partnership uses a Strategic Habitat Conservation (NEAT 2008) approach to implement bird conservation.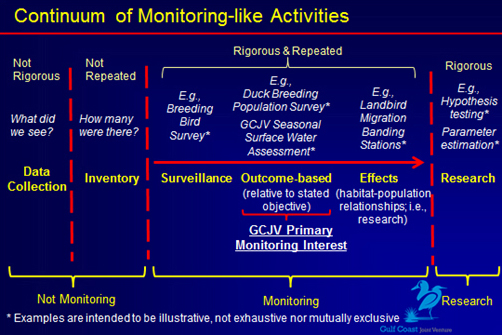 There are data collection activities which are and are not monitoring (Figure 1). There are also different types of monitoring, broad monitoring types including surveillance, effects, and outcome-based (Figure 1). Surveillance monitoring is designed to document the status or change over time of a resource, without relevance to progress toward an a priori objective or prediction. Effects monitoring is used to assess the effect of some treatment on a resource. Outcome-based monitoring is used to assess progress toward the habitat and/or population objectives/predictions from various continental or stepped down conservation targets. The GCJV includes another type of monitoring, nested under outcome-based monitoring, which is programmatic (i.e., monitoring that is used to quantify the contribution of delivery programs toward a landscape-level habitat or population outcome-based objective).
The GCJV partnership monitoring focus is on outcome-based and programmatic monitoring, however, we will also use surveillance and effects monitoring when appropriate. Regardless of the type of monitoring the GCJV strives for monitoring programs that (1) have monitoring objectives that are linked to management objectives; (2) estimate metrics with sampling methods that permit unbiased and statistically powerful results while minimizing cost and logistical problems; (3) ensure program continuity despite changes in personnel, technology, and objectives, and (4) make monitoring results available to a wide audience of constituents.
Literature Cited
Elzinga, C. L., D. W. Salzer, J. W. Willoughby, and J. P. Gibbs, 2001. Monitoring plant and animal populations. Blackwell Science, Incorporated, Malden, MA, USA.

National Ecological Assessment Team. 2008. Strategic habitat conservation handbook: a guide to implementing the technical elements of strategic habitat conservation (ver. 1.0). U.S. Geological Survey, Reston, VA and U.S. Fish and Wildlife Service, Washington, DC, USA.

---
Monitoring-related Reports
2006 Beach-nesting Bird Census and Report for Coastal Mississippi (PDF)

Estimating Abundance of Wintering Scaup Using Offshore Habitats in Louisiana (PDF)

Statistical Power and Population Trends of High Conservation Priority Bird Species Within the Gulf Coast Joint Venture Region (Final Report) (PDF)
Fall and Winter Surface Water Assessment for Waterfowl Habitat Report (DOC)

Fall Inland/Managed Shorebird Habitat Assessment (DOC)


To download a document, right click document name and select Save Target/Link As and choose local directory destination.


You will need the Adobe Acrobat Reader software to open the PDF documents. If you don't have this software, you may obtain it free of charge by following the link above.